November 17 is a great day to warm up the house and fill it with the unmistakable aroma of fresh, homemade bread.
I've got my French Country Boule Sourdough bread started and this time I'm adding bacon!!! Just flour, water, salt, and sourdough starter that I made on my kitchen counter from flour and water. Simple ingredients that I always have on hand. Usually, I will make a sourdough-Molasses sandwich bread once a week but for special occasions, it's nice to have a crusty artisan bread.
After friends gave us sorghum grown on their family farm in North Carolina, I have been subbing it for honey in many of my recipes. Here is our weekly sandwich bread recipe. I just start it the day before by setting out the sourdough start until it is nice and bubbly, then mix up the ingredients and let sit overnight. Happy Homemade Bread day!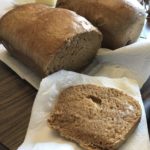 Print Recipe
Molasses Sorghum Sandwich Bread
How to make Molasses Sorghum Sandwich Bread.
Ingredients
1/2

cup

Sourdough start

2 1/2

cup

lukewarm water

2

tsp

salt

1/4

cup

molasses

1/4

cup

sorghum or honey

6

cup

freshly milled whole wheat flour

I use the Nutrimill to mill grain from Wheat Montana. See below for link

1

cup

unbleached flour
Instructions
Mix the start, water, molasses, sorghum, and salt. Add in the flour. Mix until flour is wet. Cover with plastic wrap and let rest for 20 minutes. Then continue to knead in a mixer (I use a Bosch, see below for a link ) until the sides are clean. It shouldn't stick to your fingers but is kind of tacky. Knead for 5 minutes. Place in a large bowl where it can double in size. Cover with plastic wrap and let rise for 6-12 hours depending on temp.

Divide dough into two. Roll out dough and fold like an envelope. Again, roll into a rectangle and start rolling dough from one end. Tuck in the sides and place into a greased bread pan ( see below for a link to a cast iron pan). Cover with a damp towel and let rise until double in size.

Preheat oven to 350 degrees. Bake for 30-35 minutes. Take out of the pan and let cool on a towel-covered rack.
Amazon links:
*I love my cast iron pans! The crust comes out crispy with minimal cleanup.
This Bosch mixer is a workhorse!